A play-based, pre-k learning environment providing flexibility for working families in a modern, secure facility for fully potty-trained children ages 3-5.
Level Up Preschool is an all-day preschool for fully potty-trained children ages 3-5 that offers daycare, pre-kindergarten, preschool, and child care services all under one cozy roof. Our teachers are all experienced and engaging and truly love working with children.
We teach using the Learning Without Tears™ Kindergarten readiness learning program which encourages early academic growth in a fun and productive manner. Your children will have fun while learning new skills and concepts!
Morning Tuesday/Thursday Class
3 and young 4-year-olds
Must be 3 by September 1
8:15 - 11:15 AM
In this class, we focus on building social and verbal skills in order to work cooperatively in a classroom setting. Students will be introduced to shapes, colors, letters/sounds, counting, and number recognition. Many new concepts will be taught through the use of songs and stories. theme-related art projects and science exploration will also be incorporated into your child's day. By the end of this class, students will be able to write the letters of their first name independently, draw basic shapes, and have beginning scissor skills. All students must be fully potty-trained!
Morning Monday/Wednesday/Friday Class
4-Year-olds (Pre-K)
Must be 4 by September 1
8:15 - 11:15 AM
In this class your child will build upon previous preschool/daycare knowledge and develop classroom skills necessary for success in kindergarten. This class will continue to encourage social interaction while shifting our focus towards mastering letter/number recognition as well as letter sounds. By the end of this class, students will be able to write their names independently, draw shapes, recognize/form letters and numbers, and use scissors with accuracy. Songs, stories, science, and art/STEM will all be a part of your child's day.
Afternoon Monday - Thursday Class
4 and 5-year-olds (Kinder Prep)
Must be 4 by September 1
12:00 - 3:00 PM
Designed for 4-year-olds that will be starting kindergarten the following Fall OR 4-year-olds that have been in preschool previously; Must be 4 by September 1
This class is for older 4-year-olds and young 5-year-olds. This class will be designed to meet the needs of those children with previous preschool experience who are ready to be challenged but don't quite make the kindergarten age cut off. In this class, students will fine-tune their handwriting skills, learn to recognize sight words, and begin to blend letter sounds to form words. By the end of the class, students will be able to recognize basic words, identify numbers to fifty, count to 100, and perform simple addition and subtraction using manipulatives.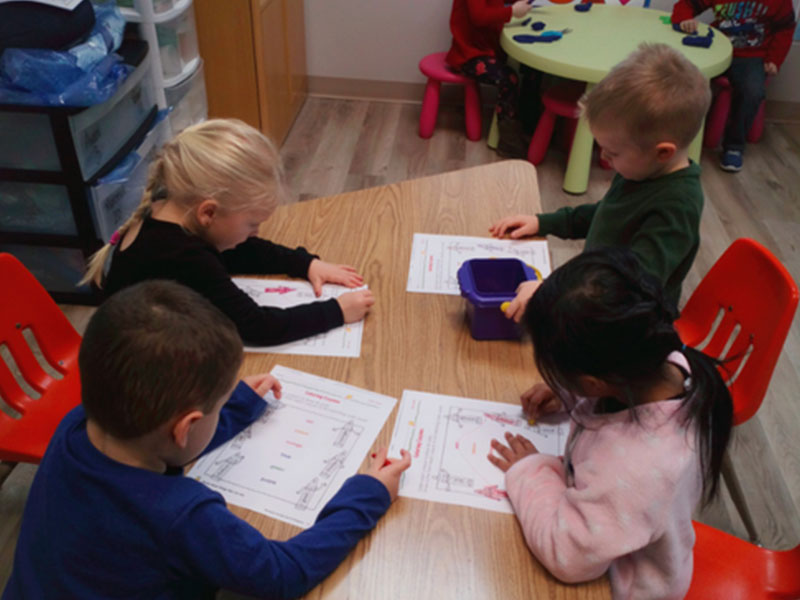 Our facilities are located at 2625 West Entiat Avenue in Kennewick, and are outfitted with a state-of-the-art security system including multiple camera angles and a high-security fingerprint / PIN access door.
Are You Ready to Meet the Teachers?
They're fun, friendly, and fascinated with learning!